Behind Every Goal main region
Behind Every Goal

This four-part series is part of Hays' "Behind Every Goal" campaign, which looks at the goals that people work towards every day in their careers and the devotion it takes to reach them.
Behind Every Goal video 2
What Attributes Power A Successful Team?
In this video, we spoke with Manchester City players who reflect on the key qualities that contribute to a high-performing team.
HAYS AND MANCHESTER CITY promo box
The 2021 Hays Asia Salary Guide explores the incredible impact the events of 2020 have had on employers and professionals' plans for the year ahead.
Find out if you are earning the salary you deserve in Malysia with the Hays salary checker.
Watch our Asia Salary Guide webinar to ensure you are informed, aware and prepared for change for the new era of work.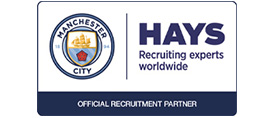 Hays and MCFC
Hays has been a proud sponsor of Manchester City since 2013, expanding the partnership to include their women's team in 2017.