Customer centricity, strong partnerships and innovation key to overcoming workforce challenges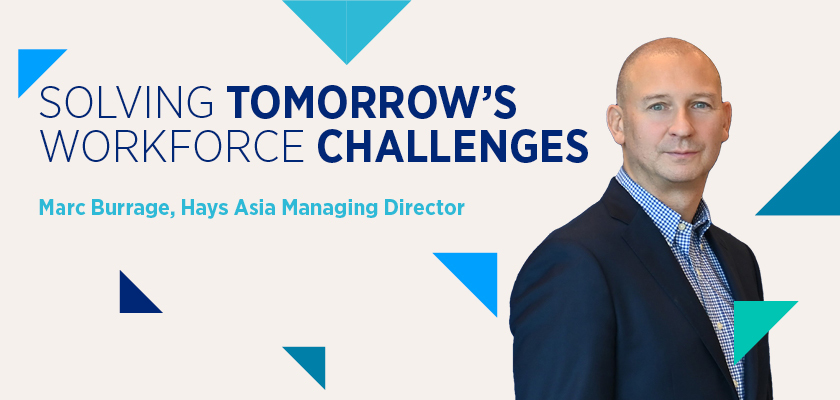 The speed of change the world of work has experienced and will continue to undergo necessitates an updated approach to overcome current and future workforce challenges in Asia, says Hays, the global leader in workforce solutions and specialist recruitment.
The way businesses and professionals had to adjust to new ways of working while maintaining the same levels of efficiency and productivity prior to the pandemic has had a lasting impact on our relationship with and expectations of work. Additionally, recent socio, political and economic shifts have also increased competitive pressures.
Workplace issues have thus become much more complex. Talent shortages, the creation of new job categories, the need to enhance customer experience, the responsibility to upskill or reskill their workforces, and managing inflationary pressures are some of the challenges faced by organisations.
At the same time, remote and hybrid working realities have introduced new perspectives that are changing personal relationships with work. Consequently, professionals are also feeling the pressure to balance their lifestyle with the need to progress in their careers.
Against this backdrop, Hays' recent brand refresh and repositioning is focused on a simplified structure that spotlights customer centricity, encapsulated in a revamped brand message.
"People have always been at the centre of all we do. Our purpose remains the same – to empower businesses and professionals to succeed. The new strapline, Working for your tomorrow brings this mission to the fore," says Marc Burrage, who stepped into the role of Hays Asia Managing Director in July.
In a recent blog reflecting on the brand evolvement, Burrage lists three ways Working for your tomorrow informs the Hays approach to navigating the new world of work in Asia.
Creating curated experiences
Beyond access to the best people and the best jobs, there is a need to provide clarity in what is an ever-changing and often complex landscape. "More than ever, businesses and professionals need data-powered insight to help them make better decisions, be it to provide enhanced customer experiences or to achieve their career ambitions. By optimising our approach to workforce recruitment with enterprise solutions, we're much better placed to help organisations and professionals find sustainable success."
Investing in life-long partnerships
Building partnerships is at the core of the Hays business. Burrage says, "This means being a true career advocate to candidates, facilitating their learning and helping them to remain relevant even as roles and scopes change. With organisations, making the effort to truly understand every client's business, so we can fully support them through providing access to a range of scalable workforce solutions alongside specialist recruitment is key."
Weaving innovation into our DNA
The agility and innovation that was catalysed by the transformation and change in the months following the pandemic now forms the framework for businesses looking to succeed. "What's critical to me is weaving innovation into the fabric of our Hays culture, whether by building robust processes for our customers, or enabling process creativity on an internal level so we are constantly iterating and improving the way we engage with clients and candidates."
Burrage continues, "This is an important milestone for Hays. I'm excited for the possibilities and opportunities that this new strategic journey will bring en route to meeting our growth ambitions in Asia, while preparing our customers to be stronger tomorrow, than today."
This press release was adapted from a LinkedIn Influencer blog by Managing Director at Hays Asia, Marc Burrage.
About Hays Malaysia
Agensi Pekerjaan Hays (Malaysia) Sdn Bhd ("Hays Malaysia") is one of the leading specialist recruitment companies in Malaysia in recruiting qualified, professional and skilled people across a wide range of industries and professions. We provide mid to senior level recruitment services across both finance and commerce industries. We have become known as the experts in sourcing regional and global candidates, as well as returning Malaysians.
Hays has been in Malaysia since 2012 and boasts a track record of success and growth, with two operating offices located in KLCC and Sunway. At Hays in Malaysia, we operate across the private and public sector, dealing in permanent positions in the following specialisms: Accountancy & Finance, Banking & Financial Services, Construction, Engineering, Human Resources, Insurance, Legal, Life Sciences, Manufacturing & Operations, Marketing & Digital, Procurement, Supply Chain, Sales and Technology.
About Hays
Hays plc (the "Group") is the world leading specialist in recruitment and workplace solutions, such as RPO and MSP. The Group is the expert at recruiting qualified, professional and skilled people worldwide, being the market leader in the UK and Australia and one of the market leaders in Continental Europe, Latin America and Asia. The Group operates across the private and public sectors, dealing in permanent positions, contract roles and temporary assignments. As at 31 December 2021 the Group employed c.12,100 staff operating from 254 offices. For the year ended 30 June 2021:
– the Group reported net fees of £918.1 million and operating profit of £95.1 million;
– the Group placed around 60,000 candidates into permanent jobs and around 220,000 people into temporary roles;
– 17% of Group net fees were generated in Australia & New Zealand, 27% in Germany, 22% in United Kingdom & Ireland and 34% in Rest of World (RoW);
– the temporary placement business represented 61% of net fees and the permanent placement business represented 39% of net fees;
– Technology is the Group's largest specialism, with 26% of net fees, while Accountancy & Finance (14%) and Construction & Property (12%), are the next largest