HOW GRADUATES CAN BOOST THEIR EMPLOYABILITY IN A TOUGH JOBS MARKET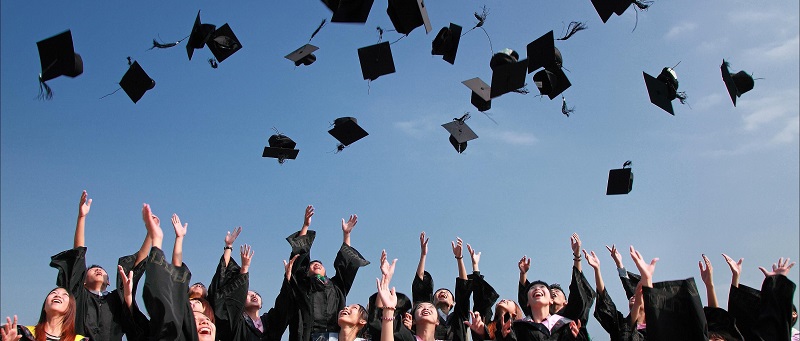 The pandemic and resulting economic fallout has meant graduates are entering one of the toughest jobs markets in living memory. The CEO of recruiting experts Hays, recently offered his advice to young jobseekers on how they can boost their employability at this uncertain time.
Whole sectors have been hit by the coronavirus which has resulted in job losses and unfortunately the demise of many businesses, meaning 2020 has been a difficult year for many professionals. Internships have been cancelled and many entry-level jobs across industries have disappeared, making it harder for young professionals to enter the world of work. In a recent blog, Hays CEO, Alistair Cox, offered the following advice to graduates.
Be kind to yourself
After completing their studies, it is normal for graduates to feel exhausted or overwhelmed. Alistair offers this advice, "Take a couple of weeks to rest, take stock, readjust and start to really plan how you could be as proactive as possible as you start this new chapter of your life. Remember one thing too: you now have a degree and no one can ever take that off you. It's become a part of who you are for the rest of your life and it shows you can learn and persevere and succeed".
Don't write this time off
Alistair says despite the economic picture being difficult at present, that doesn't mean graduates can't take steps to improve their employability, instead consider using the time to take advantage of online learning materials, starting a Masters, or explore vocational training.
Alistair says, "Use this time well. It's not dead time, it's time that you can use to demonstrate your proactivity and resilience. For example - and I know having just spent years studying, the thought of more learning might feel incomprehensible to you right now - but using this time to further upskill yourself is a great idea and one that I would really encourage".
Showcase how you've used this time
Graduates should showcase to employers their inventive, entrepreneurial and conscientious attitude to help build a fuller picture of the person, beyond the grades. Alistair explains, "A gap on your CV during which you've done nothing of real value will do absolutely nothing for your future career credentials. So, don't forget to add to your CV all the ways in which you've been using your time, whether that be upskilling, volunteering, DIY, caring, setting up a remote book club or even attending virtual careers fairs or events. All of these things will demonstrate to employers that you've got grit despite the circumstances".
Become more self-aware
Employers are looking for creativity and adaptability in their new recruits and a graduate's experience of exploring new things and taking challenges in their stride could stand them in good stead with employers who need help in the new era of work.
Alistair says, "Think about what your own unique selling point, or your USP, is. What is it that makes you, you? What do you find meaning and purpose in? What unique value can you add? What are your strongest strengths? What are you naturally good at? What specifically will you bring to an employer?"
Be open minded
At the very beginning of their career graduates should consider roles that they hadn't initially planned for, Alistair states that a person's first job does not dictate the rest of their career. Being open minded to all types of roles, such as temporary and contract, not just permanent, provide jobseekers with the opportunity to build and expand on their skills.
Alistair advises, "Appreciate that every opportunity is an opportunity to learn, and learning is what you need to be doing the most of right now at this early stage in your career".
Don't give up
Alistair advises jobseekers not to give up, "If finding a job is your priority right now, then treat your job search as a job, as your 9-5 role; make it your number one priority and structure your day around that priority. Set yourself daily targets and track your progress. Focus your time and energy on searching for and submitting one or two tailored job applications per day, instead of blanket sending hundreds – doing so has a far better effort/reward ratio".
Talk to friends and family and build your network
Building an online professional network on LinkedIn and seeking out advice and expertise can be beneficial. Alistair also suggests building a strong support network of friends and family.
Alistair says, "A strong support network can also really help you figure out what it is that you actually want to do next. They can give their perspectives, and help you think more clearly and logically about what the right first step for you is. Also, talk to your friends from university who have managed to secure a job, ask for their advice and key learnings".
Alistair closes by offering this advice to young graduates, "This specific chapter of your life - the one you're writing right now – will be defining for you in so many ways. After all, this is the chapter in which you, as the lead character, overcame adversity and found opportunity in a period of great uncertainty. It's one in which you showed resilience, tenacity and grit in pursuit of your goals and ambitions".
-ends-
About Hays Malaysia
Agensi Pekerjaan Hays (Malaysia) Sdn Bhd ("Hays Malaysia") is one of the leading specialist recruitment companies in Malaysia in recruiting qualified, professional and skilled people across a wide range of industries and professions. We provide mid to senior level recruitment services across both finance and commerce industries. We have become known as the experts in sourcing regional and global candidates, as well as returning Malaysians.
Hays has been in Malaysia since 2012 and boasts a track record of success and growth, with two operating offices located in KLCC and Sunway. At Hays in Malaysia, we operate across the private and public sector, dealing in permanent positions in the following specialisms: Accountancy & Finance, Banking & Financial Services, Construction, Digital Technology, Engineering, Finance Technology, Human Resources, Information Technology, Insurance, Legal, Life Sciences, Manufacturing & Operations, Marketing & Digital, Procurement, Supply Chain and Sales.
About Hays
Hays plc (the "Group") is a leading global professional recruiting group. The Group is the expert at recruiting qualified, professional and skilled people worldwide, being the market leader in the UK and Asia Pacific and one of the market leaders in Continental Europe and Latin America. The Group operates across the private and public sectors, dealing in permanent positions, contract roles and temporary assignments. As at 31 December 2019 the Group employed 11,600 staff operating from 266 offices in 33 countries across 20 specialisms. For the year ended 30 June 2019:
the Group reported net fees of £1,129.7 million and operating profit (pre-exceptional items) of £248.8 million;
the Group placed around 81,000 candidates into permanent jobs and around 254,000 people into temporary assignments;
18% of Group net fees were generated in Australia & New Zealand, 27% in Germany, 23% in United Kingdom & Ireland and 32% in Rest of World (RoW);
the temporary placement business represented 57% of net fees and the permanent placement business represented 43% of net fees;
Hays operates in the following countries: Australia, Austria, Belgium, Brazil, Canada, China, Colombia, Chile, the Czech Republic, Denmark, France, Germany, Hungary, India, Ireland, Italy, Japan, Luxembourg, Malaysia, Mexico, the Netherlands, New Zealand, Poland, Portugal, Romania, Russia, Singapore, Spain, Sweden, Switzerland, UAE, the UK and the USA, Singapore, Spain, Sweden, Switzerland, UAE, the UK and the USA