Temporary and contract workers becoming more permanent solutions in Malaysia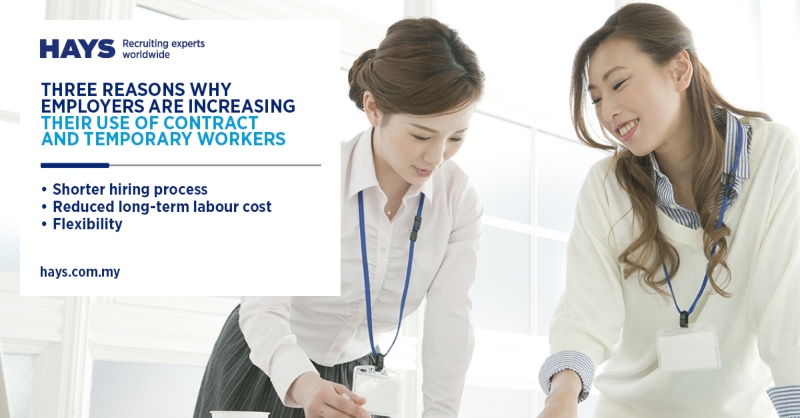 With the positive outlook of the local economy and business activity in Malaysia, employers are looking to the temporary and contracting market to make up for shortfalls in skillsets found in the permanent recruitment market. This is one of the key findings in the Hays Asia Salary Guide 2019, a report that highlights salary and recruiting trends based on responses from Hays Asia operating markets Mainland China, Hong Kong, Japan, Malaysia, and Singapore.
"Our data shows that companies in Malaysia are utilising the burgeoning temporary recruitment sector in ever-greater numbers, with 27 per cent telling us that they have employed temporary or contract staff on a regular, ongoing basis over the past year, up from 21 per cent in 2017. Similarly, more employers are expecting to increase their reliance on temporary or contract staff than in previous years (26 per cent in 2019 vs 23 per cent in 2017)," says Tom Osborne, Managing Director of Hays Malaysia.
"There are several reasons why employers are turning to temporary staff, and this is a clear signal that companies increasingly understand the benefits that this form of hire can bring."
Increase in business activity
The report shows that 60 per cent of companies in Malaysia witnessed greater business activity over the past 12 months, and at a greater scale at 72 per cent, they predict even more activity in the coming year.
In order to cope with this bullish demand, companies have been hiring more permanent staff, with 42 per cent reporting headcount increases over the last 12 months. In 2019, 41 per cent of employers forecast yet further augmentation but demand for talent continues to outstrip supply.
"Despite this upsurge in hiring, 38 per cent of employers have seen overtime increase over the past year, up from 33 per cent in 2017, signifying that companies are unable to access the talent that they require to fulfil objectives," says Tom.
"These gaps are being filled by an increasing reliance on temporary staff, and the 2019 Hays Asia Salary Guide shows that yet more companies foresee that they will be using temporary talent in the coming year."
Skills shortages
Only six per cent of Malaysia employers feel that skills shortages will not hamper the effective operation of businesses in 2019, and as productivity was the area most affected over the last 12 months, Hays advises companies predicting increased business activity to keep their recruitment options open.
"Employers have told us that they are less optimistic in their ability to recruit candidates with the skills needed to meet their needs, with only five per cent very confident that they will be able to do so," notes Tom.
"Our research shows that when it comes to tactics taken to address immediate skills shortages, the recruitment of temporary workers has doubled in the past two years, leading to substantial opportunities for candidates operating in the temporary sector."
Employee benefits
"As well as the number of opportunities available to candidates, there are great benefits for those operating in the temporary or contract sector," continues Tom.
"Temporary work allows candidates to operate in an industry or sector in which they may not have previously worked, affording them an opportunity to gain skills in a new area while developing CVs. In addition, temporary recruitment often has a speedier hiring process and financial packages may be weightier.
"Furthermore, our research shows that the majority of employers are seeking hard skills to meet their operational requirements, particularly in statistical analysis and data mining, project management and computer skills, meaning that candidates can upskill in these areas to further improve, and safeguard, their future prospects."
Employer benefits
"For companies too, the utilisation of temporary workforce also has many advantages," Tom adds.
"The recruitment of permanent staff can be a laborious process, as new hires are expected to be perfect fits. However, new temporary recruits need only meet the immediate demands of areas that are particularly difficult to fill. In addition, companies are able to contain recruitment costs, enabling organisations to source specialist expertise for specific projects."
Compared with Asia
With just eight per cent of employers saying that they never use temporary or contract staff, companies in Singapore have the highest number of companies employing non-permanent staff in some form. However, Japanese organisations utilise their temporary workers to a greater degree, with 54 per cent saying that they use contract staff on a regular, ongoing basis.
Companies in Singapore (37 per cent), Malaysia (34 per cent) and Hong Kong (32 per cent) mostly used temporary employees for special projects, while 21 per cent of employers in Mainland China said that they 'never' used non-permanent staff.
Organisations wishing to address immediate skills shortages have been turning to temporary hires with a greater enthusiasm in 2019 than the previous year. At the time of the survey, employers in Malaysia saw the greatest rise in the utilisation of non-permanent staff for this purpose (11 per cent in 2018 to 28 per cent in 2019), followed by Japan (13 to 25 per cent), Hong Kong (12 to 23 per cent) and Singapore and Mainland China (11 to 18 per cent).
25 per cent of companies Asia-wide expect their use of the temporary workforce to increase in 2019, with 62 per cent predicting levels to stay the same. Highest growth expectations are in Mainland China and Malaysia, where 26 per cent of companies forecast increases in temporary workers. Hong Kong and Japan (25 per cent) also expect high levels of increases, but companies in Singapore have the greatest proportion of respondents expecting decreases (17 per cent).
Get your copy of the 2019 Hays Asia Salary Guide by visiting hays.com.my. or by contacting your local Hays office.
Last updated on 17th April, 2019