Working with a recruitment consultant
Working with a recruitment consultant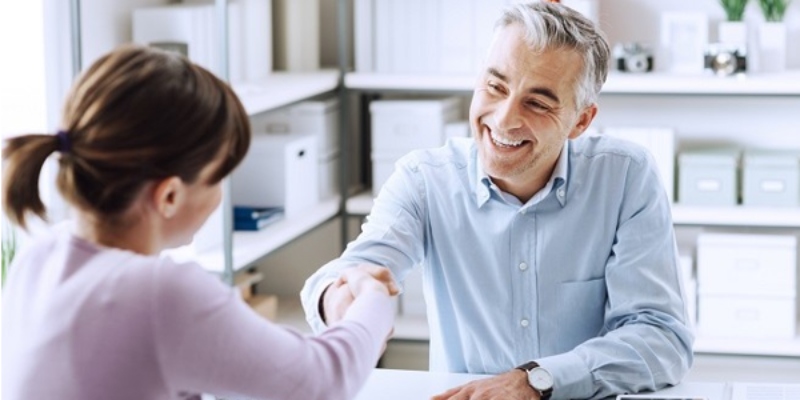 We thought it might be helpful for you to know how to maximise the benefits of using a recruitment consultant. Of course it's our job to find the best person for each role, but by partnering with a recruiting expert you will have an advocate who will promote your strengths and expertise to potential employers.
Recruitment is a people business so we're passionate about creating valuable relationships with everyone we work with. We want to make sure you find the right job, the one that fits with your career plans and ticks as many boxes for you as possible. We pride (and measure) ourselves on great service, because one day you might be looking again, and we want it to be Hays that you contact.
Benefits of an expert recruiter
Sometimes we make our job look easy, but our expert recruiters invest many hours in building relationships with employers so that when they are thinking of hiring they call us. We work hard to find out who the best candidates are on the market, and who will be the best fit for their organisation and the role.
We make a point of getting to know our clients, so as well as promoting you to potential employers, we can give you advice on what it's like to work at the organisation you're applying for and the type of questions you are likely to be asked in the interview.
Your consultant will understand the special terminology of your industry, how your particular job works and where your skills are most suited to the potential job. We can also provide you with advice on how to remedy any gaps in your industry knowledge.
Insights gained from our research provides us with an in-depth knowledge on the type of salary you can expect from a new role and we can also provide advice on what you need to do in order to secure higher remuneration.
We understand the importance of social media in your job search and can advise you on your personal brand and online profile so that you can make a good impression on a prospective employer. In addition, our unique relationship with
LinkedIn allows us to further access the platform so that we can connect millions of people globally with relevant job opportunities, materials and employment-related content. This can be of great value when it comes to your career advancement.
As the first recruitment company to reach over three million followers on LinkedIn, the connections of our followers ensure we reach more organisations and employers than any other recruiter. Our presence on LinkedIn includes professional groups offering industry insights, expert advice to job seekers and job opportunities, so you can join one of our groups for the latest relevant updates.
This is also critical since not all vacancies are advertised, and therefore our proactive consultants regularly find out about available roles for you through our networks. Having access to this information will help you access these hidden opportunities.
We aim for a "win win" situation between candidate and company. It is our role to ensure we provide an impressive shortlist of candidates who meet the criteria the vacancy requires. It is, however, sometimes not possible to submit all suitable candidates, as the company want a limited shortlist in order to save them time. We must therefore determine the strongest candidates. But even if one initial role is not right for you, we will remember you when other relevant roles come along.
On meeting with you, your consultant will give you feedback on your interview technique and CV layout. It is our role to ensure you have all of the information about a role to enable you to decide whether you are interested in it.
If you are, thorough details regarding both the position and the company are given to ensure you have the best chance of securing the role. If you have not been to an interview for a long period of time, we provide pre-interview coaching to improve your chances.
Employers are always keen to understand how you thought your interview went, so please provide feedback to your consultant immediately after to establish your interest in them and the role.
If you are not the successful candidate, we will give you feedback from the company as to why you were not selected. If you are the lucky one, we will negotiate to secure you the package you are after, without jeopardising the offer of employment.
Developing a partnership
We are there to guide and assist you and the better we understand your career objectives the more likely we are to be able to help you achieve them. Therefore, we want to collaborate with you to get the best results possible.
Keep us informed as to which jobs appeal and which do not. Never go on an interview to make us happy - go on it because you are interested. If you are in a temporary assignment, let us know how to contact you. Also advise us if you are nearing the final stage with another role.
Do let us know your honest salary and benefit expectations throughout the negotiation process so we can ensure there is no misunderstanding when we speak to employers.
We are available for your initial interview between 8am - 6pm, and appreciate it if you can meet with us within these timeframes. It is not possible to meet with large numbers of candidates after hours, as it is also our role to attend networking and client functions to maximise the number of roles we have to offer you.
Of course, we do see some candidates out of these hours, but these timeslots get snapped up very quickly.
By building a trusting relationship with us, we can tell your story to potential companies, and will advise you of every role before your resume is submitted (unless you have agreed otherwise). You can be sure that your current employer will not find out about your job search through us. No reference check would be taken up with them until you advise us we are able to do so.
If you're not sure about leaving your current job we are more than happy to discuss the trends, and types of roles available. You should not book a whole interview slot, but instead request a discussion during which we can assist you in determining whether you are better off moving or staying where you are.
Above all we are passionate about people and our enthusiasm compels us to match the right person to the right job. We believe this is fundamental to improving lives and allows people to be all they can be. We look forward to working with you to help you achieve your full potential.