2023 Hays Asia Salary Guide Navigating Sustainable Growth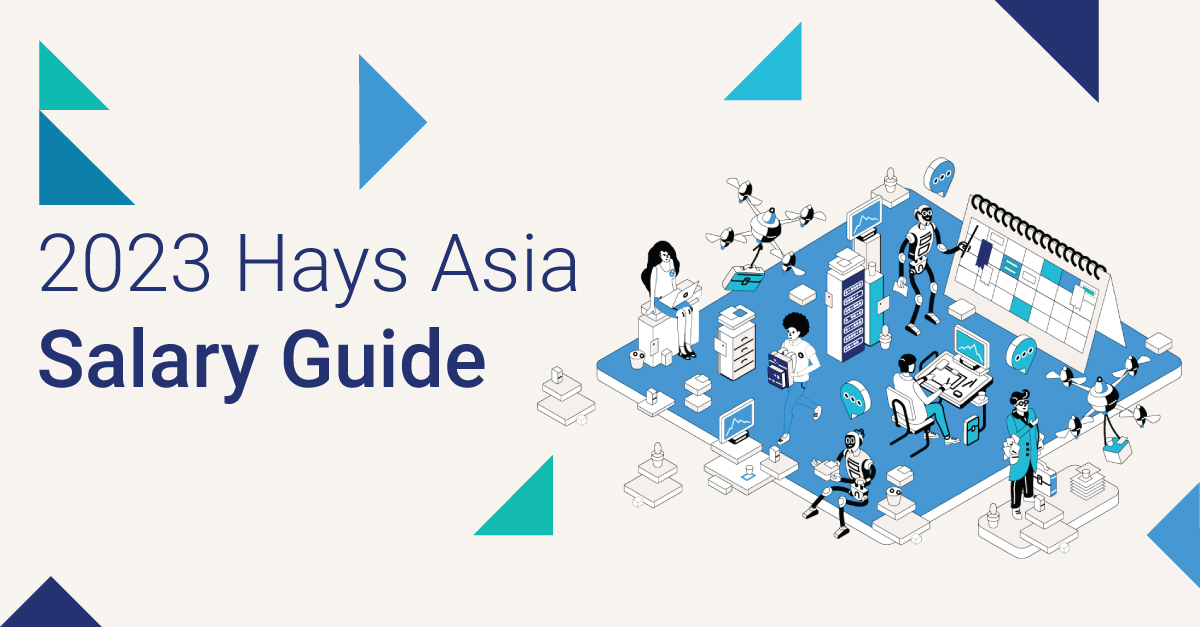 Kuala Lumpur, April 27, 2023 – Hays, a leading global recruitment firm, is pleased to announce the launch of the 2023 Hays Asia Salary Guide ("the Guide") in Malaysia. This comprehensive guide, which surveyed 10,191 skilled professionals and 3,630 employers, provides useful insights for both jobseekers and hiring managers into five key markets in Asia, including Malaysia, Singapore, Japan, Hong Kong SAR, and China. The guide offers a comprehensive overview of salary ranges, recruitment trends, and talent motivations in Malaysia.
Commenting on the launch of the Guide, Tom Osborne, Managing Director for Hays SEA said, "We are excited to launch the 2023 Hays Asia Salary Guide, which provides valuable insights into the current employment market trends and salary data across fifteen industries. As the employment landscape continues to evolve, it is crucial for both jobseekers and employers to stay informed and adapt to stay competitive."
Malaysia records highest staff level increase
Malaysian employers grew staff levels by 51.2% in 2022, surpassing their peers in other countries. Malaysia was the only market to have hired above the anticipated rate. The Malaysian employment market remained strong in 2023, with the highest percentage of active jobseekers at 33% compared to the other five markets.
Contract recruitment set to grow in 2023
Contract recruitment is expected to increase in 2023, with more employers indicating growth in temporary and contract employees compared to the previous year. Special projects and exceptional circumstances were key factors for Malaysian employers increasing their reliance on contract workers.
Talent motivations
Salary emerged overwhelmingly as the most powerful motivator for active jobseekers in Malaysia with 77% said they intended to leave their jobs for better salaries. There was however a wider salary expectation gap between employees and employer, particularly Malaysia and China. Majority of Malaysian employees expect more than a 10% increase, although employers are only planning for increases between 3-6%.
Besides salary, work flexibility is a strong priority for employees in Malaysia, but the country has seen a growing increase in employers requiring employees to work permanently on-site with 36.7% of employees who has reported no flexible work arrangements at their organisation. The guide reveals that more employers in Malaysia are on the lookout for new staff with management skills.
Sustainability on the rise for future readiness
Malaysia's pledge to achieve carbon neutrality by 2050 and Bank Negara's commitment to strengthen the financial industry's sustainability efforts and its resilience to climate changes will also see growing demand for experts across sustainability functions like sustainable financing, sustainable strategy, and Environmental, Social, and Governance (ESG) specialists. Banks are racing to set up their sustainability team, creating a candidate-driven market where the right skill set will mean stronger bargaining power.
In Asia, data showed that 54% of employers in Malaysia implemented sustainability reporting, falling in second just behind China at 60%. The sustainability implementations of organisations in other countries included Hong Kong SAR (47%), Japan (47%), and Singapore (46%) respectively.
Natasha Ishak, Regional Director for Hays Malaysia commented, "As the composition of the workforce evolves to encompass a greater percentage of younger millennials and Gen Z professionals, the significance of organizations' social and environmental impact will continue to gain prominence."
Continuous Learning in Malaysia
58% of Malaysian employees said they would prioritise digital training for platforms and tools over hard/technical skills training. Conversely, the biggest obstacle employees had to upskilling was a lack of time. Employers, on the other hand, consistently chose communication, problem-solving, and teamwork ability as the top three soft skills need to have. Compared to others across Asia, more Malaysian employers were on the lookout for fresh hires with management skills in terms of hard skills.

Exclusive Invite to Hays Asia Salary Guide Webinar
Hays Malaysia will be sharing exclusive insights that are not available in the report through an invite-only webinar. The session also includes a panel discussion. To take part in the webinar, please contact Hays Malaysia marketing team at marketing@hays.com.my
Click here to download the complete version of the 2023 Hays Asia Salary Guide.
About Hays Malaysia
Agensi Pekerjaan Hays (Malaysia) Sdn Bhd ("Hays Malaysia") is one of the leading specialist recruitment companies in Malaysia in recruiting qualified, professional and skilled people across a wide range of industries and professions. We provide mid to senior level recruitment services across both finance and commerce industries. We have become known as the experts in sourcing regional and global candidates, as well as returning Malaysians.
Hays has been in Malaysia since 2012 and boasts a track record of success and growth, with two operating offices located in KLCC and Sunway. At Hays in Malaysia, we operate across the private and public sector, dealing in permanent positions in the following specialisms: Accountancy & Finance, Banking & Financial Services, Construction, Engineering, Human Resources, Insurance, Legal, Life Sciences, Manufacturing & Operations, Marketing & Digital, Procurement & Supply Chain, Sales and Technology.