Hays announces expansion to Bangkok, Thailand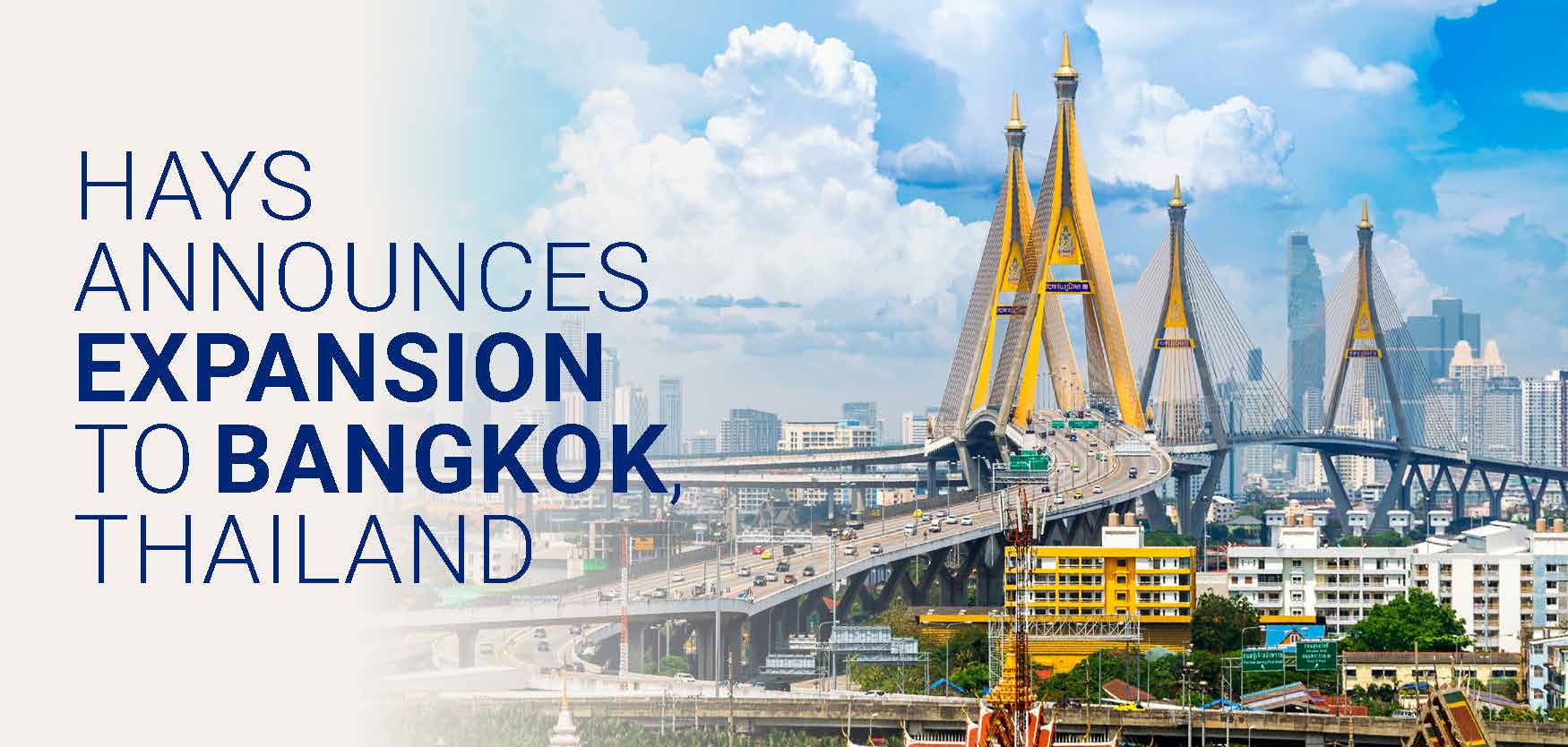 Hays, the global leader in workforce solutions and specialist recruitment, announced the recent opening of a new office in Bangkok, Thailand. The expansion will increase Hays' presence and capacity in Asia, strengthening regional and international partnerships in its seven operating markets, China, Hong Kong SAR, Japan, Malaysia, Singapore, India, and now, Thailand.
"The decision to expand into Thailand comes on the heels of a successful ten years in Malaysia. With Thailand's proximity to Malaysia and the large number of international and domestic companies with investments and operations in various industries, Thailand has always been part of our strategy to grow our footprint in Asia," says Yoke Pei Ong, Country Manager at Hays Thailand.
This move brings Hays' integrated suite of services, including workforce solutions, MSP and RPO, alongside specialist recruitment to Thailand, with the goal to empower clients and candidates to grow and maintain their competitive advantages in order to succeed in a rapidly changing world of work. Hays is the only recruitment agency in Thailand with expertise and networks across a diverse range of industries.
Yoke Pei says, "Our presence in Thailand enables us to establish closer ties with existing regional and international clients looking to leverage local talent networks. At the same time, bring on the ground means we can effectively partner businesses and professionals within Thailand and help them capitalise on the opportunities available in the market."
Yoke Pei's key priorities are to identify and hire a mix of experienced and fresh talent to form a strong and dynamic pioneering Hays Thailand team, who will drive strategic business development and long-term partnerships. Equally important is building a pool of high-calibre-talent with diverse skills, as well as grow Hays' local expertise in the commercial, manufacturing, and technology industries.
Yoke Pei continues, "With six operational markets, Hays has a unique breadth and depth of knowledge that puts us at the best position to provide the tools, insights, and solutions to shape workforces and careers. Hays Thailand truly exemplifies how Hays is Working for your tomorrow – to prepare organisations and people to be stronger tomorrow than today."
About Hays Malaysia
Agensi Pekerjaan Hays (Malaysia) Sdn Bhd ("Hays Malaysia") is one of the leading specialist recruitment companies in Malaysia in recruiting qualified, professional and skilled people across a wide range of industries and professions. We provide mid to senior level recruitment services across both finance and commerce industries. We have become known as the experts in sourcing regional and global candidates, as well as returning Malaysians.
Hays has been in Malaysia since 2012 and boasts a track record of success and growth, with two operating offices located in KLCC and Sunway. At Hays in Malaysia, we operate across the private and public sector, dealing in permanent positions in the following specialisms: Accountancy & Finance, Banking & Financial Services, Construction, Engineering, Human Resources, Insurance, Legal, Life Sciences, Manufacturing & Operations, Marketing & Digital, Procurement, Supply Chain, Sales and Technology.

About Hays
Hays plc (the "Group") is the world leading specialist in recruitment and workforce solutions, such as RPO and MSP. The Group is the expert at recruiting qualified, professional and skilled people worldwide, being the market leader in the UK and Australia and one of the market leaders in Continental Europe, Latin America and Asia. The Group operates across the private and public sectors, dealing in permanent positions, contract roles and temporary assignments. As at 31 December 2021 the Group employed c.12,100 staff operating from 254 offices. For the year ended 30 June 2021:
– the Group reported net fees of £918.1 million and operating profit of £95.1 million;
– the Group placed around 60,000 candidates into permanent jobs and around 220,000 people into temporary roles;
– 17% of Group net fees were generated in Australia & New Zealand, 27% in Germany, 22% in United Kingdom & Ireland and 34% in Rest of World (RoW);
– the temporary placement business represented 61% of net fees and the permanent placement business represented 39% of net fees;
– Technology is the Group's largest specialism, with 26% of net fees, while Accountancy & Finance (14%) and Construction & Property (12%), are the next largest