DNA of a CFO - Tips from CFOs
Five leading CFOs in Asia share their tips on how to reach the leading job in finance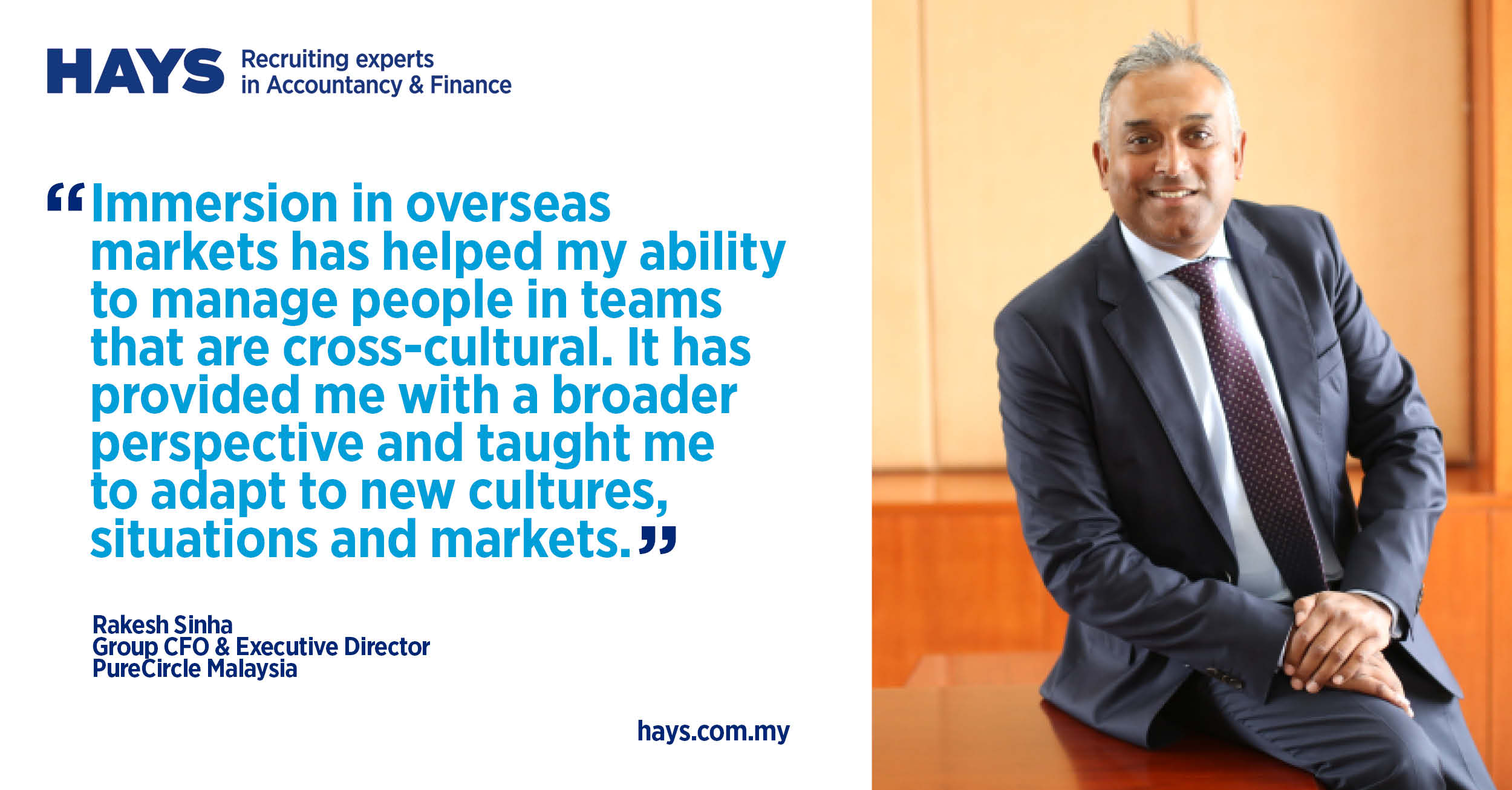 Evaluating a new job role on the opportunity it offers to take on challenges and build skills and knowledge is more important for those aspiring to become a Chief Financial Officer than focusing on job title, location or even salary package, according to senior finance leaders interviewed by recruiting experts Hays.
Aspirants should also actively invest in developing excellent people management, strategic planning skills, commercial awareness and communications skills as well as a proactive attitude to complement strong financial skills if they hope to succeed as the financial leader of an organisation.
These are some of the important insights shared during a series of in-depth face-to-face interviews with CFOs along with the findings of an extensive survey of 400+ senior finance executives and published by Hays in the report, DNA of a CFO – the makings of a Chief Financial Officer in Asia.
The five CFOs profiled were:
Herbert Werner, CFO, Trucks Asia, Japan,
Rakesh Sinha, Group CFO and Executive Director of PureCircle in Malaysia
John Jin, CFO of PayPal in Greater China
Srinivasan Venkita Padmanabhan, Global Head of Corporate Finance, Olam International
Hah Leong Kean, CFO for Cigna Hong Kong
Build people-related skills on a strong technical foundation
John Jin says reaching CFO level requires diligent career goal setting. He recommends choosing job roles and work assignments that help hone a strong technical base that includes accounting, reporting, controllship, corporate governance and other fundamental skills.
As candidates move along their career journey they should actively develop influencing skills and the ability to drive strategic partnerships in order to achieve the organisation's goals. He urges aspirants to develop a genuine interest in the people they work with. This will help them find the best way to engage with people and get the most out of their working relationships.
Be able to work beyond the numbers with every discipline
While most respondents built their career exclusively in finance or had spent the majority of their career in finance, they emphasised the need to develop a suite of skills that support collaboration and communication with all areas of the business.
Herbert Werner estimates he spends half his time talking to non-finance leaders in all areas of the business.
"The CFO is usually the number two in the company, and is therefore involved in all different functions. This is not only because of the numbers, but because the CFO has business acumen and knows what is good for the company as a whole," says Herbert.
Stay connected and invest in learning to keep up with the latest tools and trends
Srinivasan Venkita Padmanabhan (known as Venkat) is an active member of professional associations where he networks and continues his professional education.
"I am constantly learning from everyone, be it from my business partner or the tea lady at work. There's always something to learn."
Hah Leong Kean says keeping across the latest trends can be achieved through a "learning mindset" and networking.
"The tools we use today were not even taught during my schooldays, and likewise, the tools we are going to use in the future would not be taught in school today," he says.
International experience
Herbert Werner worked in Germany, the US and South Africa before being appointed to his current role at Trucks Asia, Japan. He said working in different markets challenged his assumptions about other countries/regions and also enabled him to identify the strengths of each business culture so he could apply these in his work.
Rakesh Sinha has worked in six countries over a 25-year career and has no doubt his international experience continues to be of benefit.
"Immersion in overseas markets had helped my ability to manage people in teams that are cross-cultural. It's provided me with a broader perspective and taught me to adapt to new cultures, situations and markets," says Rakesh.
Looking into the future
Over the next five years, more than half of respondents expect CFOs will need to grow their commercial awareness. Changing financial regulations will also be a major challenge for CFOs creating a greater need for them to focus on compliance and regulation and play a greater advisory role in the organisation.
Hah Leong Kean says CFOs must find ways to become more nimble in the way they learn to stay ahead of the curve and understand new technologies but also the latest business cultures such as the start up culture.
Final words of advice
Herbert Werner's number one piece of advice for aspiring financial leaders is to develop strong communication skills.
"Communication is imperative to get information from people and to influence people," he said.
He says aspiring CFOs should also be conscious of exercising good judgement in other people, as 75 per cent of the role is to lead and bring people together. And he also advises people to work at different companies in different roles to gain a better understanding of different job functions and how each contributes to the success of the organisation.

"Hays is fortunate to have had the invaluable input of five outstanding CFOs as well as 411 other financial leaders across Asia to help bring to life just what makes a CFO stand apart from other executives in the organisation," says Tom Osborne, Managing Director of Hays Malaysia.
"This is our second DNA of a CFO report. This report is packed with useful tips on how to develop the personal and professional strengths needed to reach CFO-level and thrive in the role once it is reached," says Tom.
"Our thanks to the many professionals who helped us create our second targeted career guide for those aspiring to become a CFO."
Click here to learn more about the DNA of a CFO in Asia.