The DNA of a CFO – Career advice from Asia's top finance leaders
The DNA of a CFO – Career advice from Asia's top finance leaders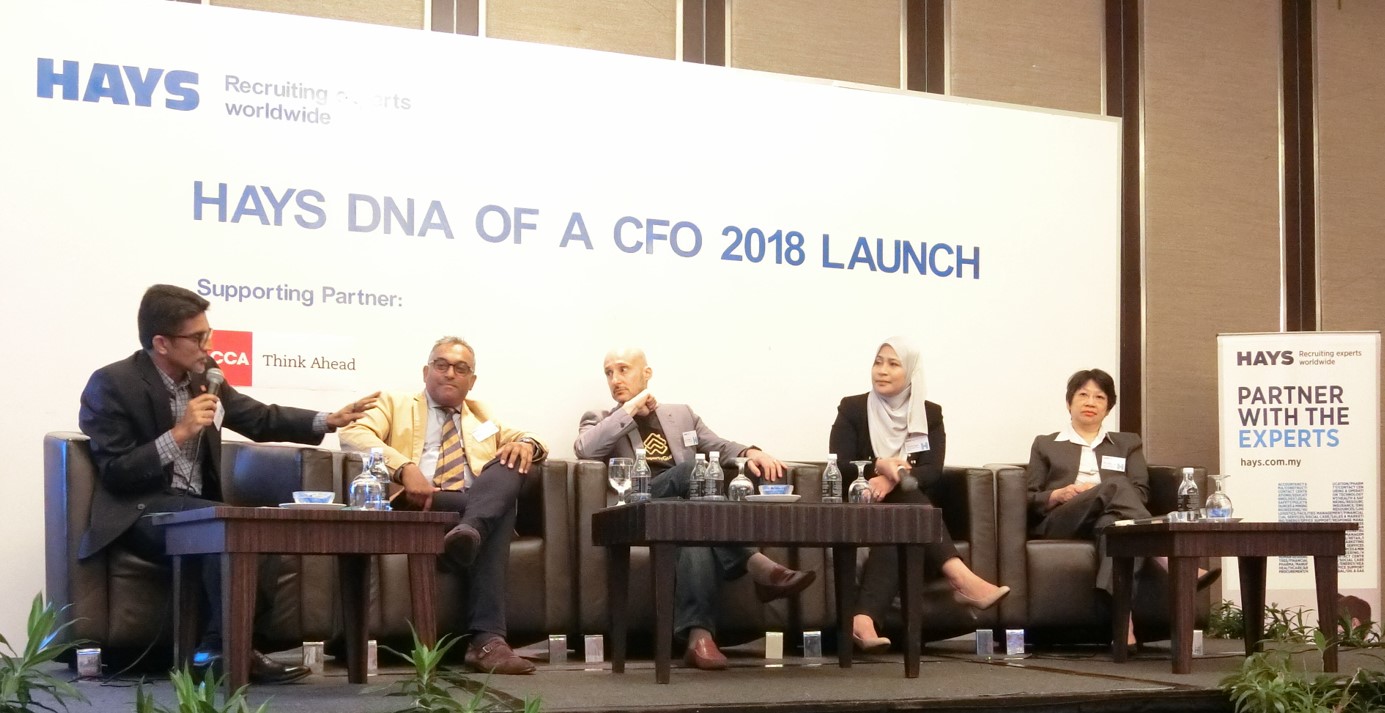 'Strategic planning' and 'people management' skills are the most important skills finance professionals need to master if they want to secure and then succeed in the role of Chief Financial Officer (CFO), according to research by recruiting experts Hays.
The research, based on an extensive survey of 411 senior finance professionals across Japan, Mainland China, Hong Kong, Malaysia and Singapore and in-depth interviews with five top CFOs has been released in the report, DNA of a CFO – the makings of a Chief Financial Officer in Asia.
"Interestingly, while our research found most CFOs built their careers in finance after gaining a finance-related degree, they credit non-financial skills and attributes as crucial elements of their career success," says Aaron Chen, Senior Manager – Accountancy & Finance, Hays Malaysia.
"The majority of our respondents in Asia (54 per cent) nominated 'strategic planning' skills as the most important skills for career success as a CFO followed by 'people management' (nominated by 52 per cent of respondents), commercial acumen (38 per cent) and communication (34 per cent)," says Aaron.
"When it comes to personal attributes, CFOs in Asia rate being 'proactive' above any other personal attribute as instrumental to their career success including ambition," he says.
"Hays is fortunate to have had the input of so many financial leaders across Asia on the role of education and qualifications, professional and personal attributes, international experience, networking and social media on their career success as well as and how they integrate life and work. The report provides invaluable advice for those aspiring to become a CFO."
"This is our second DNA of a CFO report – back by popular demand. This shows that many of the finance executives we deal with at Hays have lofty ambitions and are keen to learn from those that have gone before them," says Aaron.
Personal and professionals tools of success
Respondents in Asia nominated the top five personal attributes a CFO must possess as having a 'proactive nature' (61 per cent), 'hard working' (46 per cent), 'analytical' (42 per cent), 'goal-focused' (39 per cent), 'collaborative' (37 per cent), 'adaptive' (35 per cent) and 'confident' (34 per cent).
Most respondents in Asia prefer meeting professional contacts at dedicated networking events (53 per cent) to other methods but some don't network with other CFOs (15 per cent) opting instead for business or technical events or even internal events within their organisation.
76 per cent of respondents in Asia have an account with the professional business social media platform, LinkedIn.
CFOs in Asia prefer to keep up with events impacting business via free news sites (48 per cent), website subscriptions (45 per cent), through professional associations (43 per cent) and printed newspapers (32 per cent).
Education and additional learning
Looking at formal qualifications, 77 per cent of our survey group hold a bachelor degree in business, commerce, finance or economics. A total of 36 per cent are Certified Practising Accountants (CPA qualified), 15 per cent ACCA qualified and six per cent CA/ICAA qualified with small numbers holding other qualifications from professional bodies. Half of the survey group have also obtained an MBA, 31 per cent a masters degree and seven per cent a postgraduate diploma.
Work experience needed to land the top role
Most CFOs surveyed in Asia (30 per cent) had clocked up six to 10 years of work experience before being appointed CFO. 29 per cent had 11 to 15 years PQE before becoming CFO but 20 per cent had less than six years' experience. Another 16 per cent had 16 to 20 years PQE before ascending to the top finance job and five per cent more than 20.
International experience and career success
A total of 42 per cent of the finance leaders surveyed for our report had worked outside of Asia during their career.
Most respondents in Asia (69 per cent) who had worked outside Asia had done so for more than two years. A total of 44 per cent of all respondents in Asia with international experience had worked in North America, while 35 per cent had worked in Europe, 23 per cent in the UK, 20 per cent in ANZ, seven per cent in the Middle East and four per cent in South America.
A hefty 78 per cent described their international experience as of 'considerable' benefit to their career and 22 per cent said the experience had 'some' benefit to their career.
The DNA of n CFO is the fourth in the Hays DNA series in Asia and follows the DNA of CFO 2015, DNA of a CIO and DNA of a HRD.
To learn more about the DNA of a CFO 2018 Asia report, click here.